UPDATES – Oct. 12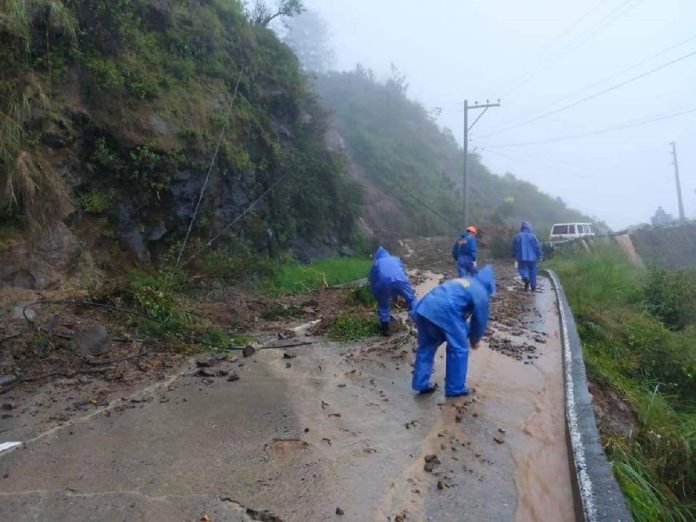 MANILA – The National Disaster Risk Reduction and Management Council (NDRRMC) said it is validating reports of nine deaths and 11 missing persons due to Severe Tropical Storm Maring.In a message to reporters on Tuesday, NDRRMC executive director Ricardo Jalad said the nine fatalities include… Read More
October 12, 2021, 1:35 pm
MANILA – A total of 15 national roads in four regions are closed to all types of vehicles due to the effects of bad weather caused by Severe Tropical Storm Maring.In an update, the Department of Public Works and Highways-Bureau of Maintenance (DPWH-BOM) reported that as of 8 a.m. Tuesday,… Read More
Maring dumps heavy rains in Luzon as it exits Philippines
Severe Tropical Storm Maring (international name Kompasu) dumped heavy rains as it continues to move away from extreme Northern Luzon.
"We ask the public to continue to take precautionary measures, observe minimum public health standards, and cooperate with their respective local authorities in case of an evacuation," Presidential Spokesperson Harry Roque said in a press statement.
Roque assured that the Palace is closely monitoring the developments of the ongoing operations for "Maring" as it continues to move away from extreme Northern Luzon.
He said local government units (LGUs) are in close coordination with the Armed Forces of the Philippines, the Philippine Coast Guard, the Philippine National Police, and the Bureau of Fire Protection to ensure immediate response operations in affected areas. Read More
---
October 13, 2021
Honorable City Mayor Allan Rellon
Yagum City
Davao del Norte
Dear Mayor Rellon:
We are respectfully submitting this LETTER OF INTENT to operate a business in your wonderful city and in relation to our application for a Business Permit.
Our business, MADAYAW ADVERTISING, is engaged in online advertising and promoiion through publication of websites as carriers of news and information and advertising materials.
We are covered by Department of Trade and Industry (DTI) Registration under Business Name No. 3033463 with address at 3rd Floor, Casaway Bldg., Jose Abad Santos St., Brgy. Magugpo Poblacion, Tagum City, Davao del Norte , with area of operation in the Davao Region.
As a responsible business entity, we hope to be an active partner in our mutual effort to promote the economic and social development of your bbeloved city through positive advertising in social media through our websites and other online publications.
Very Respecfully yours,
JOHN PAIL C. BALANZA
Reprsentative