President Rodrigo Duterte defended the Partido Demokratiko Pilipino-Lakas ng Bayan (PDP-Laban) for electing Energy Secretary Alfonso Cusi as party president during its national assembly in Clark, Pampanga on Saturday, replacing Senator Manny Pacquiao.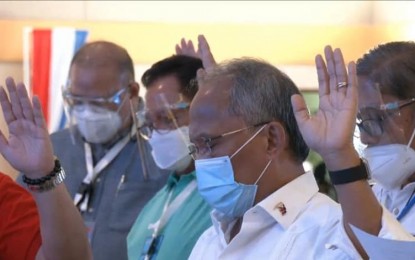 Duterte blamed Pacquiao's trouble on Senator Koko Pimentel who "started the ruckus" by appointing Pacquiao as the "acting president" of PDP-Laban.
"You just do not push somebody there. 'O sige, ikaw na muna mag-presidente' ('You can now serve as the president'). That is not how things are done," Duterte said. "Ang nagkamali diyan si, ang nagkamali diyan si Koko, hindi si Pacquiao (It is Koko's mistake, not Pacquiao's). Pacquiao does not know anything."
Duterte acknowledged that Pimentel might make a move to challenge the election of new PDP-Laban officers.
"Hindi natin alam kung ano ang gagawin sa kabila. Baka nagta-type na si Koko ng petition doon sa Comelec (Perhaps, Koko is now drafting a petition for the Comelec [Commission on Elections]). But tignan natin (let's see). Let us see. Let us see. Eh iyan ang nag-umpisa ng (He was the one who started the) ruckus," he said.
Duterte, however, reminded Pimentel that PDP-Laban, which was "asleep for 100 years", only "woke up during the election and when I ran for the presidency under the ticket".
Don't be blinded by ambitions
Amid the feud within the PDP-Laban, Duterte called on his party mates to remain focused on their ultimate goal of bringing comfortable life to all Filipinos.
"Let us not be blinded by our own ambitions and let us not allow this party to advance personal interests," Duterte said. "To my dear party mates, let us never lose sight of the founding principles from which this party was built on. And let us never forget that our end goal is always to improve welfare of the Filipino people."
Duterte said the attendance of PDP-Laban members in the national assembly sends a "clear and resounding" message that the ruling party is "as strong as ever".
He also thanked his party mates' continued support for his administration's relentless drive against illegal drugs, terrorism, corruption in government, and criminality.
"Despite all the challenges that we are facing, your unwavering support for this administration's priorities — especially our campaign against illegal drugs, terrorism, corruption, and poverty — is truly reassuring," he said.
Given that the PDP-Laban has "grown big" and that its members appear to be "united" until the end of his term, Duterte vowed to campaign for those who want to run in the 2022 local and national and elections. (PNA)