Department of Health (DOH) Secretary Francisco Duque said he and the DOH are ready yo be probed in wake of accusation of corruption by Senator Manny Pacquiao.
"While we are disheartened by these baseless accusations from our government officials, we submit ourselves to inquiries from legislators as this is a part of the checks and balances in our government," Duque said in a statement Tuesday.
Duque said that the DOH has "always been transparent and cooperative to auditing efforts within the government."
Pacquiao named the DOH as the first state department that might be riddled with corruption after President Rodrigo Duterte on Monday challenged him to name corrupt workers in government.
Duterte's challenge on Pacquiao came following the senator's claim that corruption is getting worse under the current administration.
DESPITE BOTCHED PFIZER VACCINE PURCHASE, DUQUE STAYS AS DOH CHIEF
In December last year, Pacquiao said Duque should voluntarily resign from his post following reports that he allegedly "dropped the ball" on the Pfizer deal with the Philippine government.
Pacquiao urged the replacement of the health chief for the government's missed opportunity to secure Pfizer's coronavirus disease 2019 (Covid-19) vaccine by January.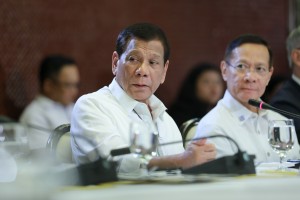 December 21, 2020
Health Secretary Francisco Duque III still serves at the pleasure of President Rodrigo Duterte, Malacañang said Monday following a senator's call to replace the health chief for the government's missed opportunity to secure Pfizer's coronavirus disease 2019 (Covid-19)…  Read More