Gov't keeps face shield policy due to new variant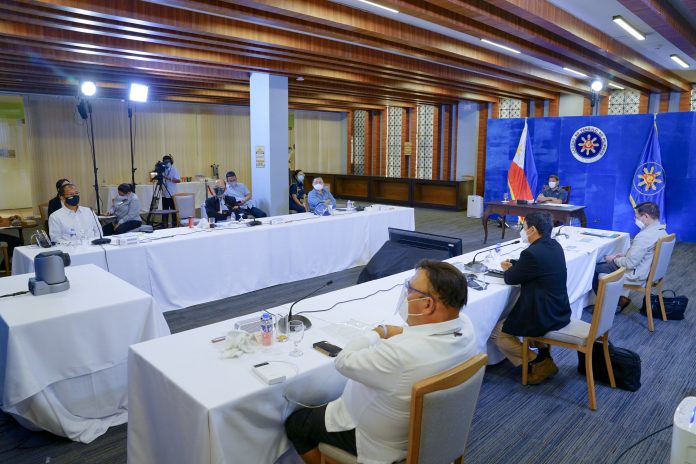 President Rodrigo Duterte on Monday (June 21) decided to retain the old policy requiring the use of face shields in both indoor and outdoor settings due to the threat of more contagious COVID-19 variants.
The decision followed the recommendation of health experts, including members of the Department of Health Technical Advisory Group (DOH-TAG), to use a face shield for added protection.
"I never said with finality that we will do away with the face shield," he said, amid his reported approval to limit the use of face shields to hospital settings.
"I know that it is inconvenient, really, to be wearing the mask, adjusting it from time to time. But that is only a very small price to pay, rather than gamble with doing away with it and court a disaster," he said, adding that the country cannot afford another COVID-19 surge.
During his public address, several DOH-TAG members said the Delta variant is four times more contagious than the original COVID-19 virus, and can infect up to eight people.
Dr. Edsel Salvana, an infectious disease expert, said even partially vaccinated individuals can still be infected with the Delta variant which was first detected in India.
"It only takes one variant to get here, and then pwedeng maging India-like surge tayo kasi mataas talaga ang number of people na kayang i-infect ng taong mayroong Delta variant," Salvana said.
"It would be nice to have an extra layer of security. Even if 'di naman required, the TAG would still recommend to continue to use face shields even outdoors, especially with the threat of the Delta variant," he added.
A study cited by Dr. Anna Ong-Lim, also an infectious disease specialist, stated that eye protection such as face shields "are able to reduce 78% infection" through the ocular route.
In a separate Palace briefing last week, biologist Fr. Nicanor Austriaco said face shields offer 9% additional protection, but added that the decision will be up to the government if this is "worth the sacrifice."
Duterte previously approved the use of face shields only in hospital settings, but was appealed to by the Inter-Agency Task Force for the Management of Emerging Infectious Diseases' (IATF-EID).