To give Cebuanos "full opportunity" to celebrate the 500th anniversary of Christianity in the Philippines, Malacañang declared Wednesday (April 14) a holiday in Cebu City.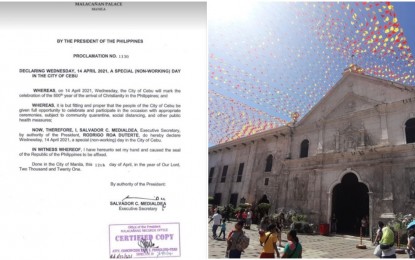 Proclamation No. 1130 signed by Executive Secretary Salvador Medialdea under the authority of President Rodrigo Duterte, and released Monday night declared Wednesday a "special non-working holiday".
"(It) is but fitting and proper that the people of the City of Cebu be given full opportunity to celebrate and participate in the occasion with appropriate ceremonies, subject to community quarantine, social distancing, and other public health measures," the proclamation read.
Archbishop Jose Palma, in his speech during the cultural event at the Ayala Center Cebu, said: "He (Duterte) has declared that the culminating activities on Wednesday, the day of the anniversary of the First Baptism a holiday in Cebu City. We thank the President for such declaration".
On the other hand, Monsignor Joseph Tan, spokesperson of the Archdiocese of Cebu, said "It is a generous gesture that the President is allowing us in Cebu to feel this special moment in our history"