Bangsamoro Autonomous Region in Muslim Mindanao (BARMM) marks 2nd anniversary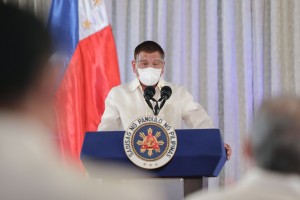 January 21, 2021
MANILA – President Rodrigo Duterte on Thursday enjoined the Bangsamoro people to "remain loyal to the cause of peace."Duterte made the call in his keynote speech delivered during the commemoration of the Bangsamoro Autonomous Region in Muslim Mindanao's (BARMM) second anniversary.
"I am indeed pleased [and] happy that in the past two years, we have strengthened the collaboration between the national government and the Bangsamoro government, a significant step in achieving meaningful and lasting peace in Mindanao," he said in a speech delivered at Malacañan Palace. "My good friends, may we remain loyal to the cause of peace."
The BARMM, established in 2019 after two plebiscites, replaced the now-defunct Autonomous Region Muslim Mindanao (ARMM) in the hopes of achieving lasting peace and security in the region.
Since the creation of BARMM, peace and stability in the region have prospered, Duterte said.
"As I have promised during the early part of my term, we have laid the groundwork for lasting peace and progress in Mindanao," he said. Read More