AFP to dismantle all communist fronts this year
Armed Forces of the Philippines (AFP) chief-of-staff Gen. Gilbert Gapay has ordered all his commanders to totally dismantle all remaining New People's Army (NPA) guerrilla fronts as the communist terrorists have been seriously weakened by government offensives.
"All remaining communist guerrilla fronts shall be simultaneously addressed and defeated toward the end of 2021. I noticed a lot of these NPA units have been weakened so this is our target for all the Unified Commands," he said in a statement late Saturday.
Gapay also ordered all area commanders to set priority targets per quarter along with their task to expedite the clearing of identified focus areas to hasten the dismantling of remaining guerrilla fronts.
A total of 54 so-called guerrilla fronts remains with nine other regional armed groups which were already decimated and on the brink of collapse. This came after the successful dismantling of 22 communist fighting and propaganda units.
ed to enter the host country, the Department of Labor and Employment (DOLE) said… Read More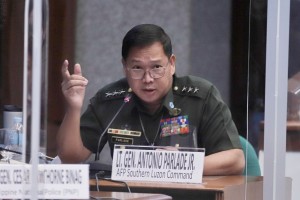 January 18, 2021
Communist Party of the Philippines-New People's Army (CPP-NPA) terrorist units in Bicol continue to crumble due to sustained community support program (CSP) and combat operations being conducted by the Army's 9th Infantry Division.This, according to Southern Luzon Command… Read More